Model 445-CW | Combination Louver
The 445-CW combination, non-drainable and adjustable, louver utilizes a uniquely designed weather control blade to be used in intake and exhaust applications that do not require high water penetration protection. The louver utilizes a built-in adjustable control damper to allow airflow shutoff. The 445-CW is an AMCA-certified louver.
Specifications
Standard Construction:
Material: Mill finish 6063-T5 extruded aluminum
Frame: Heavy gauge 4" deep x .081" thick
Blade: 45° non-drainable weather control .081" thick – spaced 4" apart
Bird Screen: Expanded metal
Sizes:
Minimum: 12" W x 12" H
Single-Section Maximum: 72" W x 120 "H
Frame Styles:
Standard: Flush Box – No Flange
Optional: Bottom Flange Only or Full Perimeter Flange
Options:
Insect Screen: Front
Mounting Sleeves: 8", 10", 12", 14", or 16"
Performance Features:
47% Free Area
Published performance ratings based on testing in accordance with AMCA Standard 500-L
Beginning Point of Water Penetration:
Free Area Velocity: 782 fpm (3.97 m/s)
Air Volume Delivered: 5,825.9 cfm (2.75 m³/s)
Certified Ratings: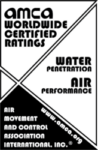 Aire Technologies certifies MODEL 445-CW shown here is licensed to bear the AMCA seal. The ratings shown are based on tests and procedures performed per AMCA Publication 511 and comply with the requirements of the AMCA.
Note:  All 445-CW Louvers are built ¼" undersize in both directions unless ordered actual size.