Model WDV-6 | Severe Duty Wind-Driven Rain Louver
Model WDV-6 is a vertical blade High-Velocity Wind-Driven Rain rated louver tested and certified by AMCA, ensuring a high-quality product that can be specified with confidence. This model has been tested to AMCA 500-L Air Performance and Wind-Driven Rain standards and is AMCA 550 listed for resistance to High-Velocity Wind Driven Rain.
Specifications
Standard Construction:
Material: 6063-T5 extruded aluminum
Frame: Heavy Gauge 6" deep x .081" thick
Blade: Vertical rain-resistant style, .080 nominal wall thickness
Sizes:
Max Width: 120"
Max Height: 120"
Single Section Area Not to Exceed 40 sq. ft.
Frame Styles:
Standard: Flush Box – No Flange
Optional: Bottom Flange Only or Full Perimeter 1.5" Flange
Options:
Insect Screen
Mounting Sleeves: 8", 10", 12", 14", or 16"
Performance Features:
Free Area: 46%, 7.36 ft2 (48"x48")
Published performance ratings based on testing in accordance with AMCA Standards 500-L and AMCA 550.
Certified Ratings: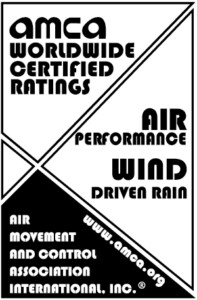 Aire Technologies, Inc. certifies that Model WDV-6 shown here is licensed to bear the AMCA seal. The ratings shown are based on tests and procedures performed per AMCA Publication 511 and comply with the requirements of the AMCA Certified Ratings Program. The AMCA Certified Ratings Seal applies to air performance and wind-driven rain.
Note: All WDV-6 Louvers are built ¼" undersize in both directions unless ordered actual size.