Earlier this year, Ductmate Product Line Manager Rich Plavchak discussed the potential for a local project that he was personally connected to and asked for the assistance of Aire Technologies.
The Rostraver Township Historical Society, located at 800 Fellsburg Rd in Rostraver Township, Pennsylvania, is in a historic church building originally founded in 1792.  Earlier this year, the building suffered damage during a storm that destroyed one of its four old, rotting wooden louvers in the bell tower.  Water damage was also an ongoing issue, and this beautiful historic building needed a long-term solution.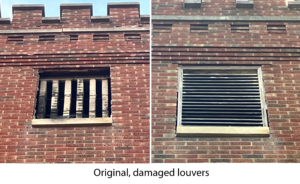 To solve these problems, Aire Technologies donated four new extruded aluminum 245 Stationary louvers powder coated white by Broken Arrow Powder Coating in Broken Arrow, Oklahoma.  They were installed Wednesday, December 7, 2022, just in time for the holidays.  Each louver measured 36" wide by 55" tall.

These louvers' design, quality, coating, and appearance will last many years.  Aire Technologies is proud to have donated these to the Rostraver Township Historical Society to help preserve this historic building and church.
For more information about the Rostraver Township Historical Society, CLICK HERE.